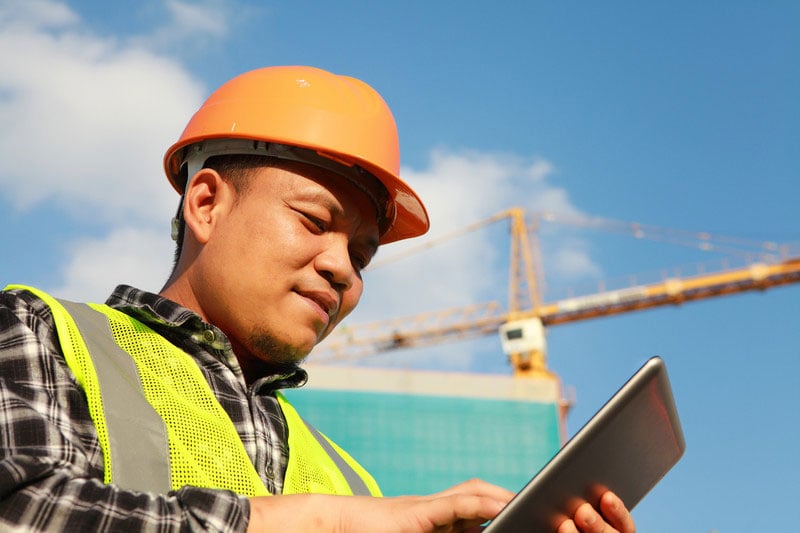 Just a few years ago, the main advantage of using a smart phone on the construction site was turning on the flashlight app. Today, smart phones are as important a tool as anything found in the contractor's toolbox, especially when it comes to quality and risk management.
From mobile inspection checklists to improved Project Manager-to-Subcontractor interaction, smart phone apps have changed how Quality Management (QM) is performed.
Photo-based communications are identifying and correcting defects faster. Real time data transference is improving report accuracy. In fact, the old pen-and-paper based Quality Management System has almost become a deterrent to productivity.
Here are five advantages of using a Quality Management App
1. Inspections have better credibility, accuracy and thoroughness
Incomplete inspections and illegible or incomprehensible comments are just a few issues with paper checklists. Not to mention, papers get missed, lost and shuffled out of order. Mobile inspection checklists require inspectors to follow a sequence and ensure all required inspection items are marked.
The sequence can't be bypassed. Line items can't be skipped, else they are flagged and the inspection can't be submitted. Notes are typed, so they are always legible.
Plus many comment fields provide drop-downs or auto-fill for common phrases, which reduces overall inspection time. Time stamps tell exactly when you took pictures and signed-off on the inspection. Pen and paper just can't compete.
2. Photos are enhanced to improve defect communication
Contractors have always snapped photos of defects, but mobile technology takes it a couple of steps further. Photos taken from the mobile device can be tied directly to a specific checkpoint or corrective action. Plus the inspector can mark-up the photo, circling or drawing arrows to a point of interest.
Notes can be added directly to the photo and shared instantly with a Project Manager, subcontractor or project owner—or all of the above at one. After repairs are made pictures also communicate the proper correction of the deficiency.
3.Inspection results are easily managed
With mobile inspections, data is immediately available for reports, so trends, completion status and punch list items are monitored in real time. Mobile technology also reduces the administrative cost and lag time of data entry.
With improved data transference comes a higher-functioning reporting system. For example, missed inspections or pending open items, a serious risk for any project, are easily identified and supervised. Reports can show coming due and past due corrective actions. Or they can rank recurring defects to show exactly where they happening and how often.
4.Forms are never out of date
Updating paper-based inspection checklists can be complicated, to say the least. Recalling outdated forms never seem to be 100% effective; someone somewhere always seems to be using an old version. Mobile technology automates this process.
Updated inspection checklists are synchronized with the mobile device the inspector uses on the jobsite. There are no recalls of outdated forms or roll-outs of new versions. A mobile software platform eliminates the confusion.
5. Mobile tech is convenient
An inspection requires examining, measuring, testing, documenting and photographing work in multiple phases of a construction schedule. That inspector has a lot to carry and keep up with. He has to juggle a clipboard with many types of inspection checklists, along with pens, camera, and a laptop. Mobile technology consolidates all this to one phone or tablet, for a more convenient, less cumbersome inspection process.
Mobile checklist and inspection apps are improving how work is completed on the construction job site. Those rugged smart phones have evolved from cool tech toys to a critical component of the Contractor's mobile office. Specialized apps designed to advance quality management are making the old pen-and-paper QM Programs obsolete.