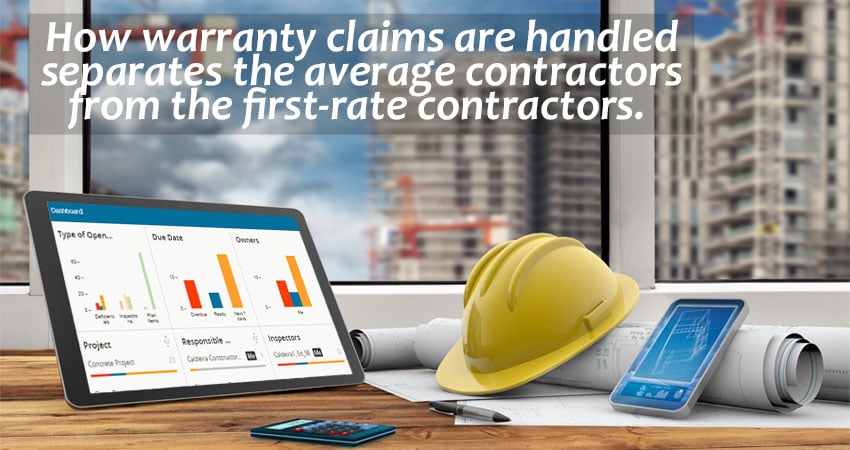 No project is perfect. Regardless of price and quality, even a new project will have its share of warranty claims. And, when defects pop-up, the contractor has dual responsibilities:
Deliver a customer-satisfying resolution, and
Determine the source of the problem
The key to addressing quality issues in construction on both levels is to have a systematic quality management approach.
Customer needs should be handled according to an organized, consistent process, just as a critical investigation of the building flaw is conducted through a standardized internal process.
Fix the defect as quickly as possible
Even the average building contractor addresses customer complaints as prompt and courteous as possible. (We won't mention below-average contractors).
So, it is obvious this first step will help repair the customer's confidence in their home and willingness to recommend.
However, with the same urgency, the contractor must investigate what caused the defect.
Whether it was improper installation or product failure, the contractor needs to update Quality Control checklists and inspections to ensure the defect doesn't reappear in future projects and create more warranty issues.
Assign a tracking number to each warranty item
Obviously, a warranty claim should generate a tracking number. This allows the contractor to check status and completion, but also how long it's taking to resolve warranty issues.
But what happens when a warranty claim is submitted for multiple items—say, a bathroom cabinet defect, a tile crack in the kitchen and an AC issue in a secondary bedroom?
A unique tracking number needs to be assigned to each individual item within a warranty claim.
Working together with the Quality Assurance Plan, these respective numbers allow the contractor to monitor issues from an eagle-eye perspective.
Individual items tied to Quality Assurance reports can reveal complaint trends and recurring defects within a specific construction phase, Trade Partner, or material.
When a high number of warranty issues are identified, the root cause can be more easily targeted and eliminated.
Understand the cost of 2nd Time Quality
The cardinal rule of building is to complete the job right the first time. In other words, achieve First Time Quality.
But builders spend a great deal of time, resources and money achieving 2nd Time Quality. That means the contractor must return to the project to finish the job or fix an error.
The money spent on 2nd Time Quality will nickel and dime the contractor's bottom line.
Warranty has hidden costs beyond just the materials used to replace that cracked tile in the kitchen.
There's manpower time and salary invested in taking and scheduling the repair, as well as the manpower time and salary needed to physically visit the jobsite. That includes mileage, vehicle wear and tear, and insurance costs. Then there's customer inconvenience.
On top of all that, the tile tradesman has had to stop working on a current project under construction to take care of the warranty issue. This is what makes 2nd Time Quality so expensive.
Every building contractor will have warranty issues. How those warranty claims are handled separate the average contractors from the first-rate contractors.
And these three keys provide a systematic approach to addressing quality issues in construction projects and allow those superior contractors to fulfill responsibilities to the customer and improve their building process.