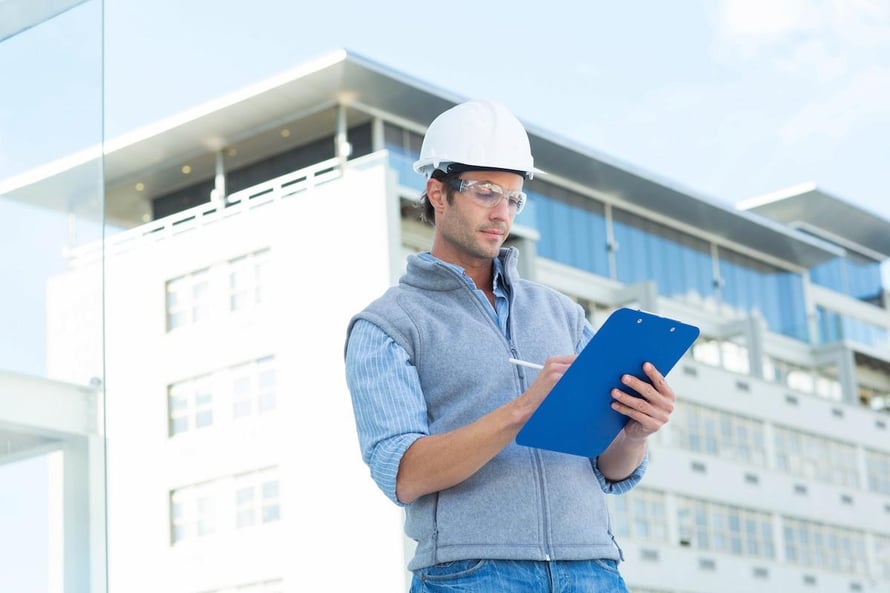 Both construction punch lists and checklists are important components of a quality management program, but neither is sufficient on its own.

Construction punch lists are inherently reactive, while checklists are proactive. Understanding the difference between the two and knowing when to use each of them throughout the construction project process is critical for successful quality management and for achieving first-time quality..
Construction Punch Lists
How they are used
Construction punch lists are employed by virtually every contractor in the construction industry to identify incomplete work, deficiencies, and compliance issues.

The process often consists of key team members walking through the construction site, flagging defects, taking photos, identifying the responsible party, and setting deadlines for correcting the mistakes.

The punch list process helps you communicate, track, and manage issues that were found and assign accountability for those deficiencies. It also helps ensure that the customer's specifications were met.

However, a punch list or snag list does not provide a record of what was inspected and passed, let alone what was in compliance, because the process focuses only on recording mistakes.
Manual Punch List Process
The traditional way of doing a punch list is to enter items to be fixed into either a paper form or a spreadsheet. The items are assigned and individually emailed to the responsible parties with deadlines for correction.
When tasks are completed, they get checked off the list. If there are late or incomplete tasks, somebody has to identify them and follow up. The process also depends on stakeholders being proactive about communication, which doesn't always happen in a timely manner on a busy job site.
Clearly, there is a lot of room here for operator error, especially when a list gets long.
Punch List Software
Luckily, the punch list process has been made much more efficient through modern technology and automation software. Punch list software sends items to the responsible parties automatically, as well as notifications and reminders about task progress, and also tracks when items are completed.
Communication is also improved, because you can include pictures and locations to convey details about issues more accurately. Punch list software also allows you to quickly generate reports to assess how many punch list items each subcontractor has had across multiple projects and how quickly they were corrected.
Construction Checklists
How They Are Used
Construction checklists are used during the course of a project to create a record of compliance to specifications. Deficiencies can identify exceptions, which, when corrected, also verify completion of work to specifications.
In contrast to punch lists, which only track deficiencies, checklists also allow you to document what work was evaluated and found to be in compliance. You can also use these checklists as a tool for onboarding field personnel or new subcontractors. By starting with a checklist that clearly outlines work expectations, you can ensure that everyone is on the same page before the project even starts.
Paper Inspection Checklist Process
Using a paper checklist typically involves marking a list of items as "Yes/No" or "Pass/Fail," as well as taking notes or adding additional items to a list found in a separate area at the bottom of the page.
A signature area often is included for stakeholders to sign, and sometimes a paper inspection gets passed along or copied so that all parties can sign the same inspection when their work has been completed.
Inspection Checklist Software
Unlike traditional, paper-based checklist systems, inspection checklist software makes it easy to share, update, and manage one set of inspection checklists that can be accessed by multiple stakeholders.
Adding pictures, notes, and signatures is easy, and the information exists in one place that is updated in real time. The software also saves time by creating a final report that satisfies clients' reporting requirements and makes it easy to share the inspection with others.
Quality management software lets inspectors add notes and pictures of the items and provides a separate field for others to respond with their comments, add additional pictures, and mark a task as complete.
Some software allows you to integrate the punch list directly into the inspection and adds new issues to the checklist so you can address them on future projects. This type of integration saves time and enables you to improve processes so you can get closer to first-time quality.
Checklists help support the quality management process by clearly defining standards and expectations. Dynamic checklists that allow quality ratings are much more effective than basic versions with simple "Yes/No" fields.
Linking checklists and the associated vendor quality ratings also contributes to a better quality management process, as you can make more informed decisions on future projects.
Construction punch lists and checklists each have important functions in quality management.
However, it's also important to remember that not all lists provide the same value. Dynamic lists that are linked to other relevant data will give you the information you need to reduce punch items and improve first-time quality. If you'd like to learn more about quality management software, contact FTQ360 today.