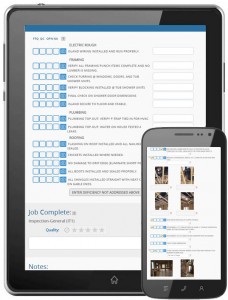 Many causes of home warranty issues cannot be seen during the closing process because they are hidden behind drywall. A pre-drywall inspection is the last opportunity to catch deficiencies before they cause problems months in the future.
Create a pre-drywall checklist. Use it to inspect rough plumbing, HVAC, electric, framing, and windows. Include checkpoints for recurring warranty items. Our sharing library has several examples that you can use and modify to suit your needs.
As you do the inspections record any deficiencies right on the checklist. Click the OPN checkbox and then take pictures and notes so the issues are clear to everyone. Some homebuilders also take a series of survey pictures to document what will be behind walls.
Notify the superintendent and/or subcontractors directly from the checklist. The email will include a Pdf file of the entire inspection, complete with pictures and notes.
When done, the superintendent changes the inspection status to PASS.
Use analytic reports to see the most frequent deficiencies for preventive actions.
This inspection is best when performed by a warranty representative, QC, or management, so there are fresh eyes on the home. The pre-drywall inspection is a fundamental building block of a good homebuilder quality program.