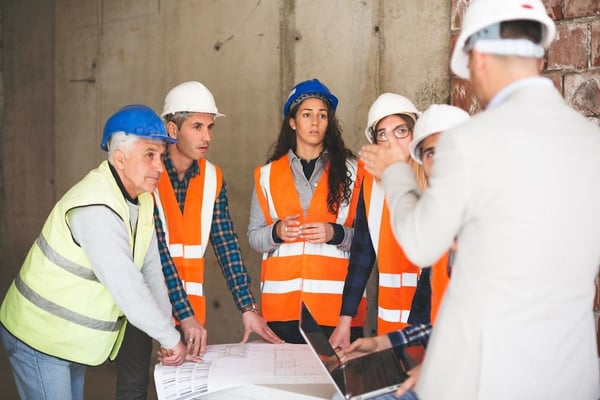 Construction quality management programs can be a bit of a mystery to people who don't do it on a daily basis. Even the managers who hired you don't necessarily know what is required to achieve first-time quality.
Without having a base of knowledge about the benefits of first-time quality and how to obtain them, many managers will see quality management as just a line item expense of the management system where they should be seeing it as profit center.
This is why educating top managers and proactively selling the idea are such important steps in implementing your quality management program as an essential part of the project management system
Presenting a Construction Quality Management Program in 7 Steps
It's important to remember your audience when pitching a new idea. While you might be excited about the specific features of a particular quality management software solution, your words will fall on deaf ears if the decision makers don't understand why having a quality control system in place is so important within the construction process.
Follow these steps to make the case for a construction quality management program in your company:
Step 1: Create the Vision
Paint a picture of a future company that has achieved first-time quality. This might include an explanation of first-time quality, if the concept is new to your company. The goal is to inspire management to buy into a new initiative and to let them know that this vision is within their reach. For example:
Construction deficiencies are preventable. It is certainly not necessary and it is no longer acceptable to repeat the same mistakes over and over.
Building it right the first time is always faster and costs less than building it wrong and repairing it. The fastest way to increase profits is by preventing costly deficiencies.
First-time quality aims toward building it right the first time more and more often. We build on what we are doing right so everyone is successful at first-time quality.
The fastest way to increase profits is by preventing costly deficiencies.
Share some of the benefits of focusing on first-time quality, such as:
Continuous improvement in profit margins. From day one, preventing costly issues returns profits to the bottom line.
Better clients and new markets. Customers can trust us to predictably execute quality work efficiently and reliably on their most important and challenging projects.
More business. Compete on your terms when you have the highest quality, lowest costs, and fastest build time. First-time quality cracks the code on being able to do all three.
Scalable growth. First-time quality is a systematic company process that supports controlled growth across all future projects.
It's important that the story you tell dovetails with management's current initiatives, so focus on the benefits that are most likely to support the organization's overall goals.
Step 2: Do a Reality Check
After generating excitement for what the organization could be, bring the conversation back to today's reality for the company and the industry as a whole. This is not a time to point fingers or blame other individuals, but to look at the big picture and identify the current challenges. Some of the areas you could focus on include:
Common quality issues that keep recurring time and again
The tight market for skilled labor
Difficulty in attracting good subcontractors
High turnover in the industry
How much unproductive time everyone spends just keep projects on track
Try to focus on the external factors in the industry that can influence the company's performance.
Step 3: Build a Little Tension
Talk about how the external factors you just highlighted are directly impacting the company. Cite specific examples that will resonate with management, such as:
Current profit margins
A job lost to a competitor
An unhappy customer
A project delayed
Excessive warranty work
At this point, you are setting the stage for a solution that will help address these challenges. Remember that it can be uncomfortable for people to hear how they have failed, which is why it's important to maintain focus on the external factors that are creating these challenges. By the end of this step, there should be a sense that these types of issues will keep coming up more frequently unless there is a change.
Step 4: Lay Out the Options
You have described both a future with first-time quality and a reality that is fraught with challenges. Now, you have several options for moving forward:
Make no changes because improvement is not possible
Continue with the current approach, but do it better
Try a new approach
This is the opportunity for management to decide what kind of organization they want to be. If you have done a good job of demonstrating the existing gap between the vision and reality, the choice will be clear. At this point, management should feel that the company is at a crossroads and that they must do something to improve quality.
Step 5: Make a Proposal for Improving Quality
Describe your proposal for a construction quality management program that aims to achieve first-time quality. Describe the best practices you will use to implement a coordinated system of checks, management controls, systematic prevention of quality issues, and performance measures.
This might include:
Streamlined apps for field personnel that make it easy to inspect and communicate deficiencies to responsible parties.
Dashboards and reports that automate follow-up on issues and accountability for direct reporting of corrections.
Using inspection data to measure subcontractor quality performance.
Analytics for Managers to uncover trouble spots that need their attention.
A systematic "Hotpot" process that targets prevention of recurring deficiencies
Tie this back to both the vision you created at the beginning and the existing challenges.
The benefits you focus on the most should be the ones that will elicit the strongest reaction from the people in the room.
Step 6: Discuss Implementation
At this stage, management should be asking how you plan to implement your quality management program. Be prepared with answers to questions about how and when you plan to roll out a new process.
Step 7: Get Consensus
You want to walk out of the room knowing that you have approval from the management team to move forward with your quality management program. While you might not yet have discussed the specific details of what tools and tactics you want to use, the stage is set for those conversations.
When done well, this type of presentation will enable you to shift the mindset of management to one that prioritizes first-time quality. Remember that the goal is not to convince them to purchase a specific solution (even though that might be one of your goals), but to make it clear that a new approach is necessary if they want to stay competitive.