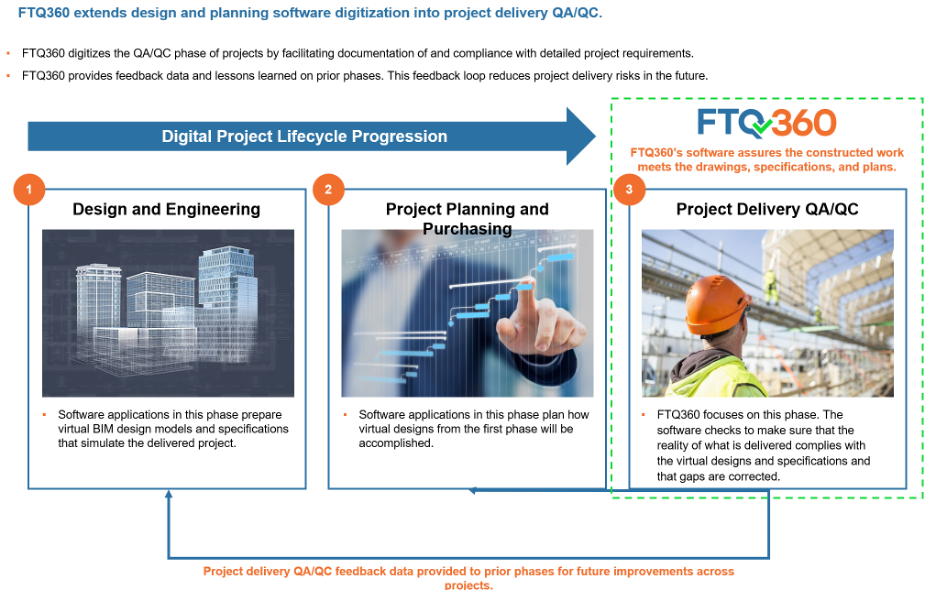 Project management in the construction industry is a complex and demanding task. While pre-construction designs and specifications define what the project goals are, it is project management that plans out numerous variables of how to get the job done.
In recent years, the realm of construction has seen a surge in specialized software solutions tailored for construction project management. These advanced project management tools, along with construction project management software, are essential for ensuring that complex projects run smoothly from inception to completion. Additionally, the integration of QAQC software into these project management tools enhances the quality control processes, making certain that the job gets done right the first time. Overall, these tools significantly enhance project management efficiency and effectiveness.
Below, we provide insights into how construction quality control software can optimize project management processes, leading to improved project outcomes.
The Power of Construction Inspection and QAQC Software
Construction quality management software acts as a comprehensive tool that bridges the gap between the planned outcomes with the actual construction progress during project implementation.
Many construction professionals use some form of digital technology on job sites for project management and quality control. This is likely to increase as more construction companies recognize the need for efficiency and real-time data access.
So, let's get into how construction quality control software contributes to efficient project management.
Proactive Quality Assurance and Risk Management
The philosophy of 'build it right the first time' underpins proactive quality assurance (QA) and risk management. The best QAQC software equips project managers with the tools to prevent deficiencies by using data to identify recurring issues, assess risks and learn from similar projects.
This proactive approach eliminates significant business risks related to budgets, schedules and warranty costs.
Without a mechanism for preventing deficiencies, project teams often find themselves reacting to problems that require immediate attention, leading to spiralling costs and delays.
Construction project management software and quality management systems, tailored to the needs of the construction business, provide a comprehensive solution to this persistent challenge. These tools empower project teams to proactively identify potential quality risks within the quality management system. By prioritizing these risks and implementing corresponding risk control strategies, teams can ensure that their projects achieve first-time quality. This approach not only minimizes delays but also optimizes quality control processes, ultimately resulting in cost savings for construction businesses.
Recognizing the Need for Proactive QA and Risk Management
The construction industry is witnessing rapid technological advancement, with a focus on digital transformation to streamline workflows and improve efficiency.
In fact, JBKnowledge reports that 54% of construction companies now have research and development departments dedicated to new technology.
New tools are on the rise, such as augmented reality, BIM, drones, mobile apps, construction management software, and AI & machine learning, reshaping the industry's operational landscape.
A shift towards proactive QA and risk management is imperative in this dynamic environment. The key indicators that signal this need are:
When avoidable issues persist: If hindsight reveals that a problem could have been prevented, it is time to transition towards a proactive approach. Digital tools can help anticipate and prevent such issues.
When quality is not improving: If your current quality control measures merely maintain the status quo, you are missing the potential for continuous improvement. Proactive QA through advanced technology can drive progress towards first-time quality.
When high-stakes failures threaten profitability: Instances where a mistake could dramatically impact the project's financial viability require proactive QA and risk management. Advanced tech tools can help to foresee and mitigate these risks.
When you have a high-performance program: If your company is committed to quality improvement initiatives like Six Sigma or Zero-Defect First Time Quality, proactive QA is necessary. Digital QA and risk management is the engine that propels these initiatives.
Checklist Inspections
While proactive QAQC aims to prevent issues, Checklist Inspections focus on the achievement of properly completed work. Checklists have prescribed lists of known risks to control and potential issues to avoid. They are a great tool for making sure the work is completed properly in accordance with project requirements.
By providing a list of specific items to check, Checklist Inspections are an important QAQC tool for improving first time quality outcomes.
Checklist inspections serve as a cornerstone in upholding a consistent, accurate, and comprehensive inspection process. They are meticulously designed to ensure the proper completion of work within the established quality control system. This fundamental QAQC function remains of paramount importance, whether overseeing a single project or juggling the intricacies of multiple projects concurrently.
QAQC Inspections close the feedback loop assuring that the project management plans are executed as expected.
Enhancing Project Management with Construction Quality Control Software
As per a much cited McKinsey report, the construction industry has been historically slow to adopt technology.
(Image source: McKinsmey.com)
However, this trend is changing. A Dodge Construction Network survey revealed that 95% of respondents expressed willingness to use digital tools to streamline their work. Yet, the challenge lies in implementing and training on modern technology while ensuring data security and effective communication between field and office.
Construction quality control software plays a pivotal role in achieving efficient and effective project management. Its ability to streamline processes, promote proactive QA and risk management, and enhance overall project efficiency makes it a valuable asset for any construction project.
Take Your Project Management and Quality Control to New Heights with FTQ360
Embracing the digital shift in the construction industry, FTQ360 provides an intelligent solution that merges construction quality control with advanced technology.
One of the platform's key offerings is proactive quality assurance and risk management - a feature designed to keep you ahead of potential pitfalls and ensure first-time quality across all projects.
FTQ360 is more than just software. It is a strategic partner in your quest for project success.
This system gives you the power to streamline your management processes, foster effective communication within your team, and pre-emptively address quality and risk issues.
With advanced features such as efficient document management, real-time project tracking, and task management, FTQ360 enhances your ability to keep up with the fast-paced digital construction landscape.
Further, its focus on securing data and promoting remote connectivity addresses two of the major challenges faced by today's construction industry, as identified in a recent industry survey titled 2022 AGC Hiring and Business Outlook Report.
The digital transformation wave is reshaping the construction industry. With FTQ360, you can be at the forefront of this revolution, reaping the benefits of efficiency and first-time quality.
Embrace the power of digital transformation with FTQ360. Sign up for a free demo today and start your journey towards improved project management and consistent quality in your construction projects.