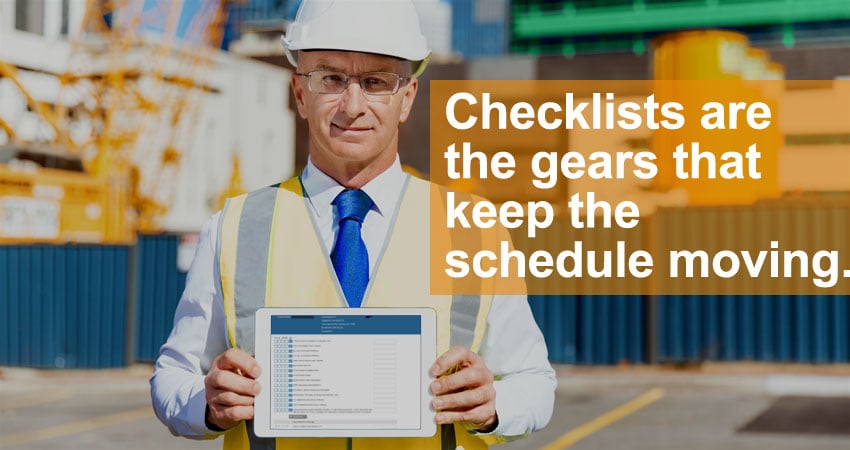 A checklist is more than just a few items scribbled on the back of an envelope for the next trip to the grocery store. It's a communication tool that's clear and concise, and can have a significant effect on a company's bottom line. In fact, builders are adopting checklists as a method to mold their employee's, Trade Partner's and customer's perception of the company brand.
That's a strategic move with big payoffs.
While every builder on the block promises "quality construction," only a few builders truly deliver. The reason for this is because many builders rely on their project's Construction Manager to decide what is acceptable and what isn't. His or her opinion determines the brand's level of quality. And, that can vary wildly from Construction Manager to Construction Manager. Truth be told, it can vary wildly from project to project too.
Inspection checklists throughout the building schedule remove the Construction Manager's opinion. Checklists set the standard, and it becomes each Construction Manager's job to ensure the Builder's definition of quality is being met. Variation from Construction Manager to Construction Manager is eliminated, and the builder delivers a consistent level of quality on each project.
Checklists also send important messages to the Construction Team. Number One being that the builder takes its building techniques and best practices very serious. Number Two is that the builder is organized. Employees want to know their company has its act together. It reinforces faith in company leadership and fosters pride in the brand.
The same can be said for the builder's Trade Partners. Trades and subcontractors waste a lot of money doing the same work twice. Return trips to the jobsite eat heavily into narrow margins. Punch lists and call backs are unnecessary wastes of man power and resources. Installation and inspection checklists can purge all that waste. Installation checklists focus on the steps required to start, perform and complete a job right the first time. Inspection checklists are used by crew leaders and Construction Managers to avoid repeating errors and frequent punch list items.
Because checklists ensure first time quality is achieved with each phase completion in the building process, the subcontractor will arrive to cleaner, safer jobsites that are ready for their crews to begin work. Dry runs, unfortunately, are common in new construction—where the subcontractor arrives on the scheduled date only to find the jobsite is behind or otherwise not ready. Checklists ensure phase completion for the preceding trades as well as the ones who follow, virtually eliminating the dry run.
Ultimately, the improvements made using checklists will save the Trade Partner hundreds of thousands of dollars a year. And, strategically, this promotes subcontractor loyalty to the Builder.
Brand loyalty isn't limited to the Trades though; Customer loyalty can be a direct result of the standardization provided through checklist usage—whether they're aware of it or not. Projects with fewer errors and callbacks are built faster. Jobsites are cleaner and more presentable for Buyer visits. Fewer building errors mean fewer warranty hassles down the road. All this increases customer satisfaction and brand value.
Another benefit for both the Buyer and the Construction Manager is a shorter, more efficient Final Walk-Through. Projects that are incomplete feel rushed, and create a bad Final Walk-Through experience that ends with a lot of blue tape. Building that fully completes one phase before starting the next (and has checklists to ensure nothing is forgotten or left undone) will result in a tighter, cleaner project at the Final Walk-Through. The Buyer will be less likely to treat the meeting like an Easter egg hunt to find everything wrong with the house. The entire meeting will take less time. And, the Construction Manager shouldn't have a long punch list with items to complete before closing. It's a win-win.
Checklists are the gears that keep the schedule moving. Used strategically, they create added value for employees, Trade Partners and customers with a big payoff for the builder.