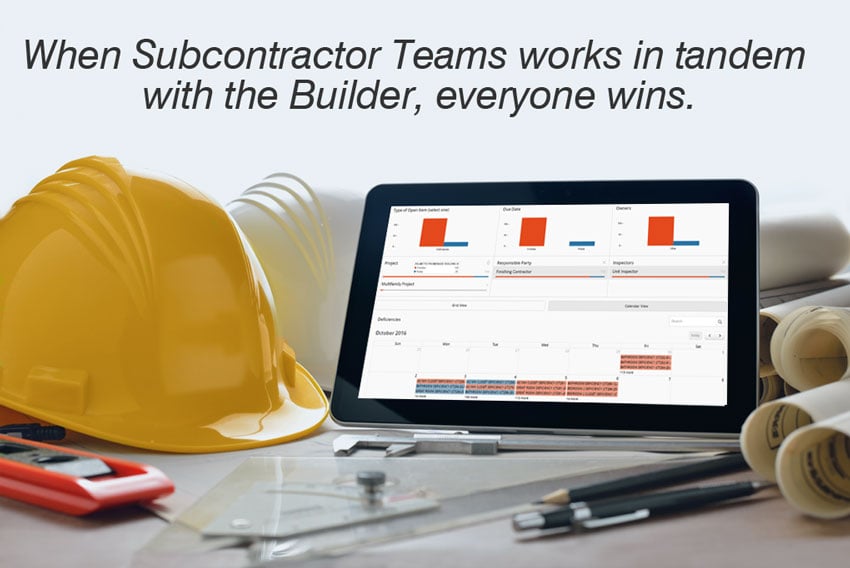 A strong Quality Assurance Program can actually give the mid-size builder a competitive edge over those large builders with deep pockets. Jobsite waste, scheduling errors, rework, dry-runs and call backs get jumbled-up in the rage of volume building, where the race to deliver projects on-time can overwhelm any quality assurance efforts. It's actually easier to deliver first time quality (i.e. finishing each milestone in the construction schedule 100% complete and on time) in a smaller business model. In fact, the builder can respond to changes faster, implement improvement measures easier and deliver a quality project with fewer people, fewer resources and fewer mistakes and accidents. But this is only possible when the subcontractors and crews work as a team with each other and the builder.
Here are 5 actions the Builder can take to ensure the Subcontractor is a committed ally in the Quality Assurance Program.
#1 – Share Hot Spot Photos
Actively take photos on the jobsite to generate right and wrong examples of the work being done, and post these photos on inspection checklists for self-inspecting subs or review during QA/QC Tool Box Talks where the subcontractors can see them. Make a point to go over "Hot Spots" before a crew starts the job and print copies to hand-out to each person on the crew. Provide copies to the Subcontractor supervisor to review during their own internal team meetings.
#2 – Discuss inspection notes
Onsite superintendents should be performing inspections during key or problem milestones in the construction schedule. Discuss those inspection notes with Crew Leaders—not in an email or on a note left on the jobsite—but face to face. When you see a recurring problem, ask the crew supervisor when, where and how often he sees it occurring — for home builders, this probably mean the problem is occurring on multiple jobsites. Get him to tell you why he thinks it's occurring. Take the time; it's worth it.
#3 – Solicit job readiness issues
Ask the Subcontractors on the jobsite to talk to you about job readiness issues. Make it clear that you want to provide a jobsite that is 100% ready for their crew when they're scheduled to arrive. If something is preventing that–whether it's something caused by a previous Subcontractor, a recurring delay, a cleanliness or safety issue, or something you personally are doing or not doing, make it clear that you want to know about it and you want to address it.
#4 – Use Checklists
Create checklists for the Subcontractors to use. This clearly articulates your expectations for completing the job as well as reminds them about how to avoid recurring mistakes and forgotten items. It also helps the Subcontractor by reducing punch list items and eliminating wasted time and resources in callbacks and return trips. Checklists will keep the construction schedule moving forward and is an integral part of achieving first time quality.
#5 - Follow-up. Follow-up. Follow-up.
Once a problem has been addressed (whether it's a recurring error, excessive punch lists, jobsites readiness or callbacks) make a point to track the progress. Ask the crew leaders and subcontractors if they're still seeing the problem occur? Are they seeing the expected improvements? If so, update the checklists and Hot Spot photos with that improvement.