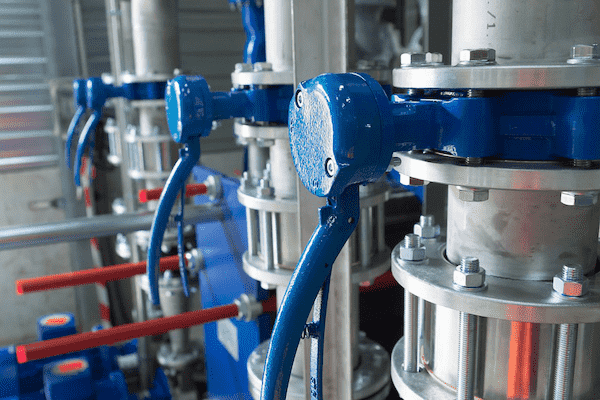 Commissioning (Cx) is the process of ensuring that a facility's systems – i.e. its control systems, mechanical electric and plumbing (MEP) systems, energy supply systems, water, drainage and fire control systems, etc. – are functional, efficient and safe.
With such a broad scope, and the sheer volume of structured inspections, testing becomes an essential part of the commissioning process and best practices must be applied.
These begin with the creation of an inspection and test plan that provide a list of what tests and inspections should be performed throughout each phase of the commissioning process.
Using commissioning software, commissioning managers can make inspection and testing programs streamlined and highly efficient, ensuring that a facility's systems are functioning at optimum levels and ready to be made "live" as quickly as possible.
Commissioning – A Quality-Oriented Process
As defined by the National Conference on Building Commissioning, commissioning is the "systematic process of assuring by verification and documentation, from the design phase to a minimum of one year after construction, that all facility systems perform interactively in accordance with the design documentation and intent; in accordance with the owner's operational needs, including preparation of operational personnel."
In other words, commissioning is a quality-oriented process for ensuring that systems are designed, installed, functionally tested and capable of being operated and maintained in accordance with operational needs.
All facilities and systems must meet defined objectives and criteria and their performance verified and documented.
During the construction phase, the process of commissioning must verify that equipment and systems are properly installed and integrated in accordance with the owner's project requirements (OPRs).
This is achieved by performing installation site observations and rigorous pre-functional testing of all mechanical components and equipment.
Checklists must be drawn up to ensure that equipment is complete and operational and that its installation is documented.
As the facility nears completion, functional performance testing and integrated systems testing must be completed to ensure that all systems and equipment being commissioned are performing at optimal levels. They must also be safe and evaluated for project success.
The systems are run through all of the sequences of operation and the response of components is verified. Testing proceeds from components to subsystems to systems and finally to interlocks and connections between systems."
When functional performance testing has been carried out, any deficiencies identified must be documented in a deficiency report, which will include the full details of any components or systems found to be non-compliant with OCRs, safety regulations or design documents.
These items will then be added to the project's punch list with details of the alterations or fixes that are required.
Reducing Complexity with Test Templates
By its very nature, commissioning is a lengthy and comprehensive process that relies heavily on multiple tests being carried out across a huge inventory of components, equipment, subsystems, systems and connections.
To reduce complexity and simplify testing, commissioning agents can benefit hugely from creating a library of reusable test templates for various types of equipment or systems.
Serious commissioning software will have the test templates with ability to record verification checks as well as test data without resorting to spreadsheets to handle repetitive or demanding technical requirements.
The beauty of test templates is that they are essentially reusable test reports that can be easily edited for specific projects, components, equipment, etc. using commissioning software. This solves the problem of having to create numerous similar testing checklists from scratch and with commissioning software, all checklists are synced to the cloud to enable easy access and review for all relevant parties. An important benefit is that test reports are prepared done right, consistently.
Simplifying the Process with Commissioning Plans
With a library of inspection and test templates in hand, they can be used to create an end-to-end project commissioning plan. Each template can be used multiple times and multiple templates can be sequenced to form a complete commissioning plan for a project.
A commissioning plan will list all of the required inspections and tests for a project. It will include fields for:
Planned items for tests and inspections

Checklists

Party responsible for the work being tested

The function or department carrying out the tests and inspections

Required inspector types

Frequency of tests and inspections

Test and inspection completion dates

Notes and comments

Hold points where approval must be given before work can proceed.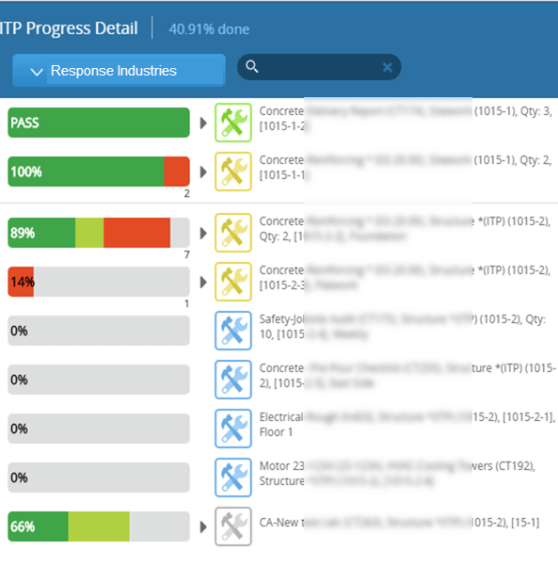 (Image source: support.ftq360.com)
Using commissioning plans significantly reduces the time it takes to develop testing and inspection schedules because you simply have to choose and organized the sequence of inspections and tests for each project.
A good commissioning plan will also help ensure that all equipment and installations that need to be tested are done so in a timely fashion to specified standards and requirements.
Dependencies and alerts can also be set up with commissioning software, ensuring that no tests or inspections are missed and that reports can be easily created for clients that want to see how the project is progressing.
Using commissioning software to manage your commissioning plans also makes it much easier to outline your schedules, link them to all relevant documentation and automatically track progress.
The best commissioning software solutions on the market today sync seamlessly to the cloud and are accessible on mobile and tablet devices.
This means that all relevant project participants can easily view key information, such as tests and inspections that have been completed or are in progress, inspections that are coming up and the percent complete of the entire inspection and test plan.
Commissioning software also puts all relevant documentation at your fingertips.
This means that if you need to review all commissioning activity related to a specific system, you can immediately pull up who carried out the test, when it was completed and view any associated notes and photographs.
Create Test Templates Simply and Easily with FTQ360 Commissioning Software
When designed and implemented effectively, test templates can streamline processes, reduce complexity and simplify and standardize testing for commissioning.
Using FTQ360, you can design and store functional checklists, test reports, and multi-step commissioning templates, giving you a centralized library of these important tools that makes it easier to leverage them across multiple commissioning projects, ensure your commissioning agents and all other parties are up-to-date when onsite and simplify distribution.
Get in touch to find out more or request a software demo today.