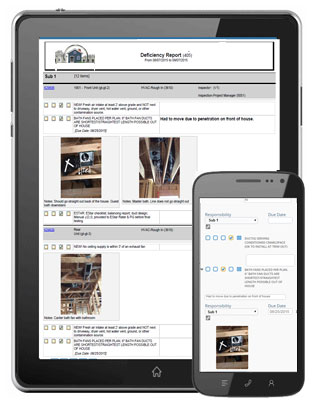 The work with old style punch lists begins in the job trailer where you have to log in your issues, organize them, email them, track them, and following-up. You spend more time in the trailer than on the jobsite. Now, with FTQ360's Punch List Automation feature, you really shouldn't be spending any time in the trailer at all.
FTQ360's new capabilities in punch list automation let you simply and efficiently create punch lists in the field and not touch them again until corrections need your approval.
New Automation Features:
Auto-sort and notify. FTQ360 notifications from the field go well beyond click and send now (so 1.0!). With Punch List 2.0, the system organizes the punch items by responsible party and automatically email them their new items.
Automated follow-up and tracking. "Overdue Punch Item" reminder emails are automatically sent. Status reports track the backlog and go out weekly to responsible parties and project managers.
Integration of punch lists and checklists. Deficiencies on checkpoints automatically become punch items. In this way, checklists function as punch lists until the items are closed and you pass the inspection.
Shared (but controlled) access. Responsible parties can document their own corrections with pictures and information and alert you that the item is ready for your review.
More Ways You'll Save Time:
In-line punch lists. Document all issues at once on a single punch list screen, even when there are different responsible parties.
Corrected item tracking. PASS/FAIL checkpoints are not enough. Eventually each checkpoint is set to "PASS" leaving you no useful information on corrected items. FTQ360 tracks items that are corrected, providing valuable data for analysis.
Data analytics for operations. Answer questions like … Which checkpoints have the most deficiencies, which subcontractors? Which crews? Is it getting better or worse? Being able to answer questions like these is key to improving operations.
Don't settle for automating manual processes when technology can do the work for you.
Sign up for a free trial or live demo.