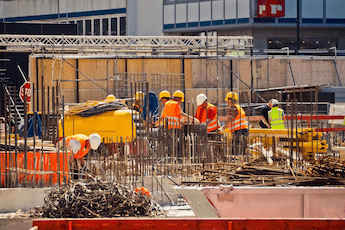 The role of project management is traditionally concerned with overseeing budgets, timelines, and customer relationships. Keeping them all in balance is a fine juggling act, but you must also add construction quality management to the mix.
The truth is, that budgets, timelines and customer relationships all are intrinsically tied to quality. Indeed, as a project manager, wouldn't it be so much easier to keep costs down, stay on schedule and improve customer satisfaction if quality was achieved first time, every time?
Of course, it would.
And this is precisely why construction quality management needs to be an organization-wide goal, with project managers playing a leading and active role.
Ghost Management – Until There Is A Major Problem
Although it is of course true that project managers are concerned with quality, it is also true that top management leaders rarely get involved with quality control until a major problem occurs. A structural defect that will put the project back weeks and require profit-eating rework, will see project managers come flying out of the woodwork – for they will have to explain the delay to the customer and account for the additional costs to their management.
Even so, project management still tends to view construction quality management as a cost center rather than a profit driver. This is unfortunate – and a view that is in fact a cost center in itself.
Why?
Because achieving first-time quality is more cost-effective than allowing quality to suffer, mistakes to be made, and defects to occur – only to have to have to fix them later. Rework is expensive, not just in terms of mounting labor costs, but also in terms of customer satisfaction and time delays. as well.
These are all hugely important factors that project management needs to consider.
It goes without saying that the more you can reduce costs, the higher the project's profitability will be. But, looking at the bigger picture, incurring persistent time delays while rework is conducted may ultimately impact your company's reputation, which can hamper your future business prospects. In addition, the longer it takes for the current project to be completed, the longer it is before you can move onto the next one.
Benefits of a Company-Wide Construction Quality Management Process
The three main benefits of a deploying a company-wide construction quality management process chime in perfect harmony with the three primary concerns of project management – project costs, schedules and customer confidence.
When it comes to controlling costs, striving for first-time quality is far more effective than second- or even third-time quality. Money is inevitably saved when the job is done right the first time. When you've got numerous personnel spending half their days dealing with issues that could have been avoided, labor and material costs go up. Then there are the costs involved with the time it takes to deal with project delays – and the delays themselves chipping away at the project's profitability and making it impossible to get things wrapped up so you can move onto the next jobsite.
A first-time quality management program will also help to improve customer confidence. Customers notice quality and they recognize when a contractor delivers it. This can lead to more repeat clients, more referrals and fewer unhappy customers. Indeed, first-time quality can be an extremely powerful sales tool for bringing on new clients and keeping your pipeline full.
Building a First-time Quality Program with FTQ360
Achieving first-time quality on a consistent basis requires putting systems in place to prevent issues before they emerge. This means top-down commitment from project management –and the right digital tools to implement the program.
Handling all first-time quality project management needs, across a whole jobsite with multiple crews and subcontractors, is simply not feasible when relying on traditional paper documents and spreadsheets. Adopting an integrated construction quality management software solution like FTQ360 will help you eliminate these cumbersome tools as you roll out a consistent program and bake first-time quality into the very culture of your company.
One of the most important elements of achieving first-time quality involves building a structured inspection schedule. With FTQ360, this is achieved through inspection checklists which can be accessed by all team members and subcontractors via an easy-to-use smartphone or tablet app that stores all data and important documentation in the cloud.
These checklists can be built during pre-construction, where project managers and quality managers can identify errors that have happened before – as well as any concerns about potential issues – and add those items to the inspection checklist. This provides a clear and concise tool for communicating acceptance criteria to all personnel before the work starts, helping the project stay on schedule, while allowing managers to keep the project under control and prevent recurring issues – all of which contribute to lower costs and increased customer satisfaction.
When all participants understand what the desired outcome of a project is, the more likely they are to get it right the first time.
More than this though. With FTQ360, not only can you implement company-wide app-based checklists, you can also keep track of all many other elements of the quality inspection process, including who is going to perform the inspections, how frequently they will be performed and how deficiencies will be handled.
The system can even be used in between projects to help project management identify and hire subcontractors capable of performing quality work.
What's more, once they've been selected, performance measuring functionality means you can keep everyone on track for delivering first-time quality – every time.
Final Thoughts
In order to reduce costs, improve timelines and increase customer satisfaction, quality management needs to be a pillar of your project management process right across the board.
FTQ360 is the tool for the job. To learn more about our solution and how it will help you accelerate towards first-time quality excellence, get in touch to find out more or request a software demo today.
Image source
.