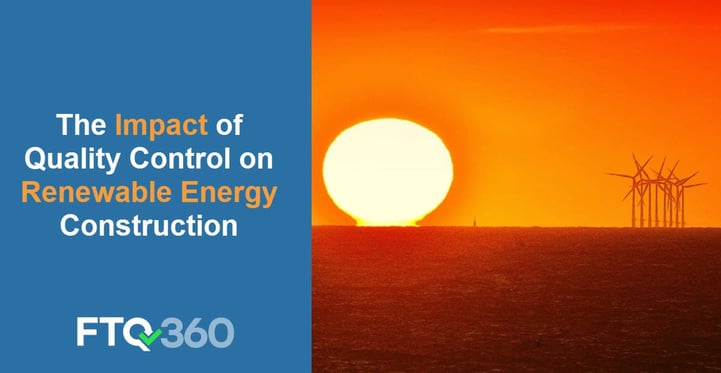 The United Nations has set several targets on renewable energy as part of its Sustainable Development Goal 7 (SDG7). The goal is to ensure universal access to affordable, reliable, modern energy services.
To achieve this, the UN has set three primary target areas:
SDG 7.1 - Access to energy

SDG 7.2 - Renewable energy

SDG 7.3 - Energy efficiency
By 2030, the UN aims to ensure universal access to affordable, reliable, and modern energy services, substantially increase the share of renewable energy in the global energy mix, and double the global rate of improvement in energy efficiency. However, milestone targets are way behind what was planned. For example, to stay on course, targets for 2025 include a 100% increase in modern renewables capacity globally and a doubling of annual investment in renewable energy and energy efficiency.
This also means a faster pace of renewable energy construction activities. However, for renewable energy construction to be successful, quality control is an essential factor. Construction quality control involves implementing procedures and processes to ensure that all work meets the highest standards. This includes ensuring that materials used for construction are high-quality and adhere to industry regulations and that contractors perform their duties correctly and safely.
Below, we examine how improved quality control can help the world meet its renewable energy construction targets.
General Aspects of Quality Control in Construction
Quality control in the construction industry is essential for successful projects. By adhering to quality standards, the project not only meets its desired specifications but also fulfills the client or owner's requirements. However, executing proper quality control measures can be a difficult task and is often overlooked by contractors. Without a formal procedure in place to monitor quality, projects can suffer from costly mistakes arising from wasted time, money, and materials. For instance, for concrete to meet its desired grade it must include the specified ingredients – a task that requires careful oversight.
In general, the objectives of quality control in any type of construction can be summarized as follows:
Fulfillment of contract specifications

Adhering to project timelines

Project owner satisfaction

Staff motivation and empowerment

Avoiding disputes and claims
Quality Control Issues in Renewable Energy Construction Projects
The construction of renewable energy systems, devices, and components presents unique quality control challenges.
Safety, reliability, and performance of renewable energy systems, devices and components
Safety is one of the most important aspects of quality control in renewable energy and construction sites. Construction workers must be adequately trained to ensure that all safety procedures and guidelines are followed. This includes the proper use of personal protective equipment, such as hard hats, gloves, and goggles, to minimize the risk of accidents and injury. In addition, all safety protocols must be adhered to during installation and maintenance operations.
Reliability is also essential for successful renewable energy construction. All components must meet the required technical specifications and performance parameters, such as energy efficiency and durability. This ensures that renewable energy systems operate smoothly and deliver the desired performance.
A proper quality control plan ensures the safety, reliability, and performance of renewable energy by:
Testing and inspecting the renewable energy systems, devices, and components before installation and operation.

Following the best practices and guidelines for renewable energy installation, operation, and maintenance.

Monitoring and controlling the variability of renewable resources and their impact on the electricity grid.

Protecting workers from injuries related to electricity, such as burns and shocks.
Improve solar asset transparency
Solar asset transparency refers to the ability to accurately track and monitor the performance of solar assets over their lifetime. One way to improve solar asset transparency is to track key performance indicators (KPIs) of solar power, such as inverter performance ratio (IPR), availability, and degradation rate.
A good quality control regime improves solar asset transparency by:
Standardizing and following the best practices for solar installation, operation and maintenance.

Providing accurate and consistent data on solar performance, weather conditions, and financial metrics.

Reducing the risks and uncertainties associated with solar projects for investors and rating agencies.
Comply with regulations and standards
The construction of clean energy systems must comply with the applicable laws and regulations. This includes both national and international standards for green energy. Quality control procedures help to ensure compliance with regulations and standards for renewable energy by:
Adopting and implementing the ISO 50001 standard for energy management, which helps construction firms improve their own energy efficiency, performance, and sustainability and build the same into their construction projects.

Following the codes and standards for solar energy systems installation and integration, which ensure the safety and reliability of solar deployment.

Abiding by the regulations, guidelines, codes, and standards for hydrogen and fuel cell technologies, which address the technical and safety aspects of these emerging renewable energy sources.
Industry framework for quality management
There are some industry frameworks for quality control in the clean energy construction industry. For example:
The International Renewable Energy Agency (IRENA) has published a series of reports on quality infrastructure for renewable energy technologies, which provide guidelines for policymakers on how to develop and implement quality control measures for different renewable energy sources.

The International Energy Agency (IEA) has proposed a policy framework for accelerating sustainable energy transitions in heavy industry, which includes recommendations on "modifying design regulations to focus on performance rather than prescriptive requirements to facilitate leaner construction and use of less emission-intensive materials".

The IEA has also issued 20 renewable energy policy recommendations, which outline the guiding principles for policy-making to support renewable energy deployment and integration.
Leverage FTQ360 Quality Control Software
Quality control is essential for successful renewable energy construction projects. It helps to ensure safety, reliability, performance, and compliance with regulations and standards. To make sure that construction companies and teams are meeting these requirements, they can leverage quality control software such as FTQ360 to manage their quality assurance processes. FTQ360 helps construction teams track KPIs, adopt best practices, and ensure compliance with regulations and standards for clean energy systems, devices, and components. For more information, sign up for a free demo.