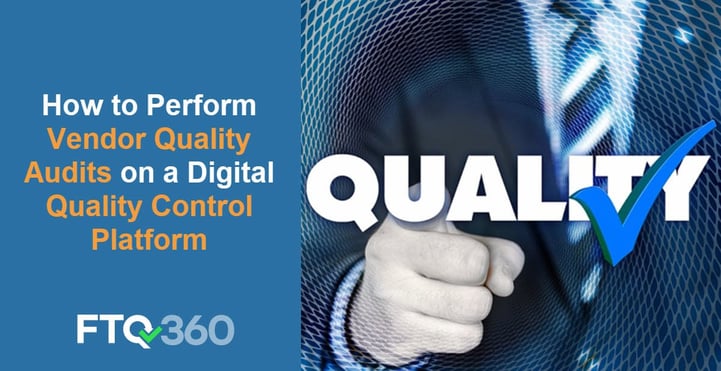 Industries such as construction and energy are highly regulated. These sectors deal with projects and services that require reliable accuracy and quality compliance. To ensure that their products and service provider is capable of meeting the required standards, businesses must conduct thorough vendor audits. A vendor audit is an essential part of quality control in industries such as construction, energy, manufacturing, and telecommunications.
A vendor quality audit involves evaluating vendors who supply goods and services to a company, assessing their quality assurance processes, and assuring that they have the capability and resources to produce the products and/or services that meet the company's standards.
The audit process involves a comprehensive inspection of a supplier's adherence to industry regulation practices, such as health and safety, quality management, cost reduction, and correct manufacturing processes. They are usually customized to meet the client's requirements.
They differ from other types of audits. For example, first-party audits, are internal audits conducted by an organization for purposes of quality control, and third-party audits are external audits conducted by an independent body to verify compliance with standards or regulations.
Vendor audits can be conducted by different parties depending on the purpose and scope of the audit. Some possible scenarios are:
The buyer organization conducts a vendor audit as part of its due diligence review, onboarding, or annual review.
A neutral third-party inspection company conducts a vendor audit on behalf of the buyer to evaluate the vendor's compliance with specific quality standards and client requirements.
The buyer organization conducts a vendor pre-qualification audit to assess the vendor's capabilities before contracting them or to add them to an approved vendor list.
The quality assurance personnel representing the sponsor conduct a vendor audit to verify that the vendor is following good practices and regulations.
Traditional Methods to Undertake a Vendor Audit
Vendor audit processes have traditionally been conducted manually. This involves collecting information on product quality from the vendor and assessing it to determine if they meet the required standards. Some examples of manual methods include:
Assessing the vendor's company credentials, personnel certifications, and insurance coverage, and recording this on a spreadsheet.
Checking the vendor's financial stability, legal claims, reputation, market presence, awards, and existing clients, and recording this on a spreadsheet.
Evaluating the vendor's quality management system, quality certifications, and compliance records.
Reviewing the vendor's contracts, service level agreements, and pricing policies.
Visiting the vendor's premises and inspecting the facilities, equipment, and processes.
By nature, manual methods are labor-intensive processes that require significant time and resources for data collection, analysis, review, and reporting – all of which are typically done by various personnel and documented on spreadsheets, emails, and written reports.
Disadvantages of Traditional Methods
Some disadvantages of manual audits are:
They are time-consuming, labor-intensive, and prone to human errors.
They are inconsistent, unreliable, and difficult to verify.
They are insecure, vulnerable to fraud, and lack transparency.
They are costly, inefficient, and wasteful.
The manual process also makes it difficult to store audit results in one central location and organize it for easy access and tracking.
Despite these disadvantages, manual vendor auditing methods are still prevalent in sectors such as energy and construction. However, the future looks bright given the increased uptake of technology solutions in these sectors over recent years.
For example, according to a report by McKinsey, VC investment in construction tech outpaced the overall VC industry 15-fold through 2019, with clear indicators for continued momentum. The report also found that 70% of construction companies have increased their use of digital data management tools since COVID-19.
Another survey by SAP, found that more than half (51%) of engineering and construction respondents use mobile technology during the design phase, and 37% use mobile in maintenance processes. Many respondents (46%) said this technology has improved their sustainability performance.
Also, according to another study by McKinsey, digital adoption has taken a quantum leap at both the organizational and industry levels during the pandemic. The study estimated that COVID-19 accelerated digital transformation by seven years on average across sectors.
Digital QC: A New Paradigm
The emergence of digital QC and the emphasis on total digital transformation is revolutionizing the way vendor audits and quality assurance are conducted. Digital QC provides an efficient, secure, and cost-effective way to conduct vendor audits transparently and consistently.
Digital QC improves the efficiency of the auditing process in the following ways:
Auditors use online cloud-based systems to collect, analyze, review, and report data – eliminating the reliance on cumbersome spreadsheets and minimizing human error.
Online configuration of step by step audit screens that standardize the review process and the collection of supporting documents and information.
Automating workflows, tasks, alerts, and actions to streamline and standardize the audit process.
Integrating with other QAQC and quality management systems to ensure consistency and reliability of data.
Providing real-time visibility, traceability, and accountability of actual vendor performance and compliance.
Reducing costs, risks, errors, delays, and waste associated with manual audits.
Best Practices for Digital QC
Some best practices for implementing digital QC are:
Use process mapping to layout the stages of vendor quality audits.
Configure an audit checklist for each stage, with checkpoints for the each evaluation criteria. Add a section for final review and approval.
Review QAQC data to identify problematic areas that may need special attention from the type of vendor or from the specific vendor under review.
During the vendor quality audit add observation notes and supporting documents to each criteria. If the requirement is met, then check as passed. If there are deficiencies then check as an open item for correction. When the audit stage is complete then the final review and approval con proceed.
Use the inspection and QAQC to monitor ongoing vendor performance. If there are problem areas, then review the audit and update the audit process as needed.
FTQ360 QC Software
FTQ360 is a digital QC platform that provides an easy, cost-effective way to undertake vendor audits. It enables organizations to keep up with compliance and traceability demands by automating their vendor audit process and tracking all the data in one central location. The intuitive dashboard allows you to easily monitor progress, see quality issues, set deadlines, and take corrective action when necessary. FTQ360 also offers integrated reporting capabilities so you can stay on top of compliance requirements and reduce costs associated with manual audits.
Sign up for a free demo today to see how FTQ360 can help you improve your vendor auditing process.