Are you thinking of rehiring a subcontractor for a new project? How was their quality on the last few projects? How do they compare to other subcontractors? Seeing subcontractor quality performance across other subcontractors and across projects is essential for making an informed decision. Here is how you can use FTQ360 to understand each candidate's strengths and weaknesses:
Inspect and handle punch items and issues with your mobile devices.
Select a subcontractor at the start of your inspection or any time you find an issue. The system automatically tracks subcontractor quality for every checklist, checkpoint, and punch item deficiency.
Compare subcontractor performance across projects.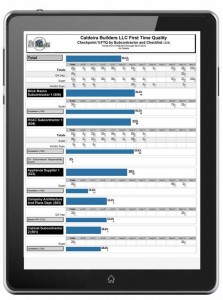 Run online trend reports with filters set to select the contractors under consideration and the work tasks that interest you. For each work task you will see a comparative analysis of each contractor's quality performance trends over time. Drill-down to narrow your list of subcontractor candidates to the top performers.
Use detailed analytics to look at a subcontractor's quality risk factors.
Are their punch item deficiencies driven by particular phases of work or even specific checkpoints? Do they have the same deficiencies over and over? Is good performance based on specific crews or supervisors? The data leads you to understand each candidate's strengths and weaknesses.
Start using proactive contracting.
Build in specific requests and preventive procedures into your contract: personnel with a proven record; training and qualification requirements; self-inspections that target weaknesses.
Use each subcontractor strengths and weaknesses to offset pricing differentials.
You will know the risks that each contractor has and know if you need to take additional preventive measures such as enhanced surveillance or more frequent inspections. At least now you can evaluate total cost rather than bid price alone.
You have the ability to create a data-driven subcontractor selection process when you have a system that collects the information and has the analytics you need to make decisions.